As I've stated elsewhere, handing out a T-shirt, water bottle, or other promotional item doesn't earn sponsors the recognition they want or provide the return on the rights fee paid for an event.  At best this is the minimum table stakes for properties to deliver their sponsors. In the busy and often chaotic environment of large scale events – runs, walks, BBQ's, auto show, mall events, sports sponsorships, golf tournaments -  it is easy for sponsors to get lost in the maze of traditional logo signs, often removed from where the action is..  To stand out, be noticed and engage your audience,  you need to be bold and dramatic to dominate the physical space associated with the event.
How?
Signs in the morass of sponsor signs?
PA announcements?
Volunteers or staff on site?
More promotional giveaways?
Maybe some of these can work. A better way is get in front of participants – literally.  A new generation of outdoor decal products makes it possible to really own a space.  Using visually striking graphics or placing these decals where it is least expected  will garner the attention needed to break through the clutter.
Some ideas for consideration include:
Own the staging area,  entrances or parking areas at events like runs, sports stadium, shopping malls or fairgrounds where you can be first to  greet participants, fans, or consumers..
Own the starting line or finishing point for charity runs or walks.. Be dramatic and bold.
Own the first or last kilometer of a race or walk.  Provide words of encouragement , distance markers or directional  information in the middle of the street or pathway.
Own complete sections of a stadium seating area – walls, stairs, entrance ways, concourse areas.
Create interesting and unusual directional signage that leads to your display or exhibit. Ideal for fairs, festivals, zoos, amusement parks, golf tournamens or other events covering a large area.
Does it cost extra?  Some but to really leverage the investment in sponsorship fees and onsite activation, the cost is marginal.
Here are some examples to help you think about how you can dominate  the next  event you are sponsoring.  And properties might want to think about how to incorporate this into your proposals to provide a creative activation plan for sponsors.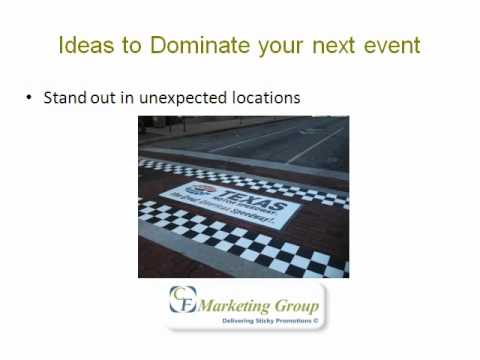 CF Marketing Group  helps Canadian marketers be bold and dominate sponsored events using unique products to increase the stickiness of promotional messages for auto, sports sponsors, events or sponsorship activation programs.  Stickiness means your promotion will be noticed, have interactive elements and deliver measurable results.
Email  me at volker@cfmarketinginc.com to explore new ideas in sponsorship activation, retail promotions and unique OOH concepts.